CAFM Asset Data Collection Mobile App
With this CAFM asset data collection template, you can collect building fabric, mechanical, and electrical asset data for your facilities management systems using a turnkey mobile app for tablets or phones.
Then you can produce your CMMS/CAFM asset data reports, spreadsheets, pivot tables, and data exports in seconds, thus reducing your facilities management administration by 90% or more.
This app is perfect for commercial CMMS/CAFM surveying practices, facility management companies, facility managers, and property management organisations.
---
CAFM Asset Data Collection & Investment Plans
With this inspection software, you can produce your CMMS/CAFM asset data collection reports as Word or PDF documents in just a few seconds back in your office, without having to do extensive report writing on your computer.
You can easily export CAFM asset data spreadsheets, pivot tables with automatic 5-year, 10-year, 30-year lifecycle maintenance plans in just a few clicks.
Easily collect data for your CMMS/CAFM asset management systems, such as FSI Concept Evolution, IBM Maximo, Tribal, Tabs CAFM, Concerto, Job Logic, Planon, Accruent, Micad, Fiix, Upkeep, Microsoft Dynamics, and many others.
You too could reduce your office admin by 90% by producing CAFM Asset Data Collection spreadsheets in seconds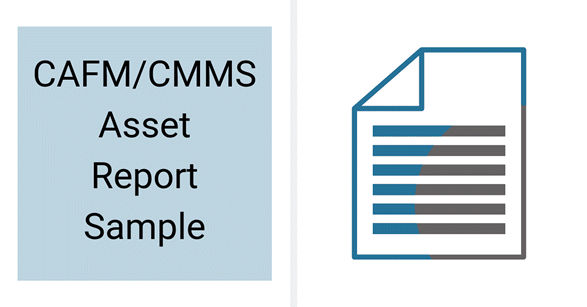 CAFM Asset Data Excel Report
---
CMMS/CAFM Mobile Data Collection App
This commercial data collection system is different to anything else you may have seen! The condition-based CAFM asset data collection mobile app captures condition, residual life, barcodes, and equipment attributes on-site, quickly and easily.
The app displays configurable descriptions and costs from any schedule of rates of your choosing, but it is pre-loaded with an SFG20 inventory of maintenance items.
Speed up on-site surveying and make your facilities management mobilisation teams super-efficient. The mobile app is fast, uncluttered, and so easy-to-use, even on smartphones.
About CAFM/CAMMS Mobilisation App
---
Powerful Database & Reporting System
This detailed CMMS/CAFM asset data collection survey captures quantity, condition, equipment attributes, and remaining life, with costs based on an external schedule of rates that you can edit to suit your own needs. It includes the ability to specify comments, take building photographs and photographs for each building asset.
You can benefit from the Word-based condition reports, and standard Excel exports included as standard. Furthermore, you can extend the functionality with powerful add-ons such as those listed below.
Lifecycle Plan & Pivot Table. Adds full repeating lifecycle renewal costs and produces 5-year, 10-year, 30-year whole-life costing model as an Excel pivot table and chart.
Portfolio Manager. You can manage your asset database efficiently by keeping your lifecycle plan up to date. You can apply works done, move scheduled renewals, and synchronise groups of work items.
Custom Exports. We can export data to a custom CSV/Excel format suitable for any building asset management system based on a specification that you supply us.
Produce your CAFM asset maintenance PDF reports, spreadsheets, pivot tables, and data exports in seconds, thus reducing your facilities management tasks by 90% or more.
Export CAFM asset data collection spreadsheets, pivot tables with automatic 5-year, 10-year, 30-year lifecycle maintenance plans in just a few clicks.
View a sample CAFM asset data collection report by clicking the button below.
---
Low Cost & Affordable For CAFM/CMMS Engineers
This mobile CAFM asset data software is ideally suitable for commercial surveying practices, facility management companies, facility M&E engineers, and property management companies.
This commercial inspection application ensures accurate & consistent CAFM asset data surveys across your client portfolios.
Prices are on our website and are affordable by any size of organisation. Furthermore, there is a fantastic monthly subscription option for smaller facilities management companies.
Because you save hours and hours of manual data input and making complicated spreadsheets, you will recoup your investment in just a few M&E inspections.
Easy-To-Use on Mobile Phones or Tablets
With our mobile CAFM asset data collection app, you can concentrate on assessing the remaining life of building assets, logging installation dates, condition, defects, equipment information, comments, and taking photos of each building asset as you go along.
Easy to Modify & Setup
We can offer skeleton schedule of rates such as SFG20, Fabric, M&E, BCIS, NHF that you can quickly and easily customise using our template editor to suit your unique purposes. You can in fact use any schedule of rate such as BCIS and many others. We will even help you configure the whole system before delivery.
You can tailor your whole CAFM asset data collection software and effectively build your custom app, component descriptions, attributes, life spans, lifecycle costs, and attribute codes with our unique 'Survey Template Editor'.
---
Need For Mobile CAFM Asset Data Collection
Planned maintenance software is one of the core components of a computerized maintenance management system (CMMS).
It helps businesses maximize their resources, minimize operational downtime, extend asset life spans and reduce costs of maintaining assets.
The primary objective of the CAFM asset data collection survey is to prolong the life of an asset with a preventative upkeep schedule. This pro-active approach maximizes asset value and limits unnecessary replacement costs.
It achieves this by scheduling regular equipment upkeep, reducing downtime by combining routine tasks when possible, and subsequently reducing repair-based expenditures and losses resulting from delayed or halted production.
---
Benefits Mobile CAFM Asset Collection Software
Your CAFM asset data surveyors waste a lot of time, effort, and cost by manually filling out paper forms, taking separate photographs, and dictating notes.
You could use this precious time in more productive activities such as gaining new clients and managing your mobilisation projects.
Finally say goodbye to paper forms and handwritten notes, forever!
Try CAFM Asset Collection Software Now
---
CMMS/CAFM Surveyors Need This Software
Even if you have a full-blown asset management system such as Concert Evolution, Accruent, or IBM Maximo, you will still need a dedicated mobile asset collection system.
With our software, M&E engineers can complete CMMS asset surveys in the field by using this revolutionary mobile CAFM asset data collection software.
The mobile software eliminates the need for paper-based assessment forms by guiding you through and assessments with a mobile application with pre-populated menus and checklists.
On-site data collection means that assessors never need to input building element data manually again. Then you can create your spreadsheets & data exports on your computer in seconds without any further editing.
This condition-based CAFM asset data collection survey allows you to collect information relating to building assets and identify future preventative maintenance works.